Vendors who reserve a site and pay by the early-bird deadline can have their custom graphics included on the sign.
Vendor Graphic Specs
150 dpi
Height: 1.7 inches / 255 px
Width:
Graphic Templates
You can use these templates to help guide your work.
Please also use these to images promote the event and your participation in it!
NOTE: to ensure that these images fit on all screens, we are not dictating the displayed size. It is likely that the small-site template looks "taller" than the large-site template. That is merely an artifact of the display. The image you download should have the proper dimensions.


Tips for Great Graphics
Print your graphic.

Graphics always look a little different on screen than they do when printed. This happens because your screen is transmitting light. For normal screens, the image might appear brighter on screen. If you have an OLED screen, it might appear darker on screen (depending on your printer).

Keep the parts that people need to read simple and large.
Ensure that there is good contrast between the background and your text.

You can enhance separation by outlining your text, placing it in a transparent box, or using a drop shadow. The internet probably has other useful information about ways to do this.

Avoid slight variations in color or brightness where there is important information.

See the note under "print your graphic" above.

People will be viewing these graphics from 5-10 feet away.

Print out the graphics and view them from 10 feet. If you can read it well, then you're good!
After printing, be sure that the printed graphic is 1.7 inches tall (just under 1 3/4 inches).
If you have a large site but can't print onto large enough paper (e.g., legal-sized), try this:

Add two copies of the image to a document.
Crop one for the first 7 inches and the other for the last 7 inches.
Print in portrait or landscape mode on 8.5×11 paper.

Have fun! Let the character of your business or organization shine!
Overall Festival Map Specs for 2023
28 inches wide and 36 inches tall
Printed on cloth at 150 dpi
Durable and rain-proof
High quality graphics
Displayed on sigh-boards at either end of the street
This Year's Layout
Here is the layout for this year's sign: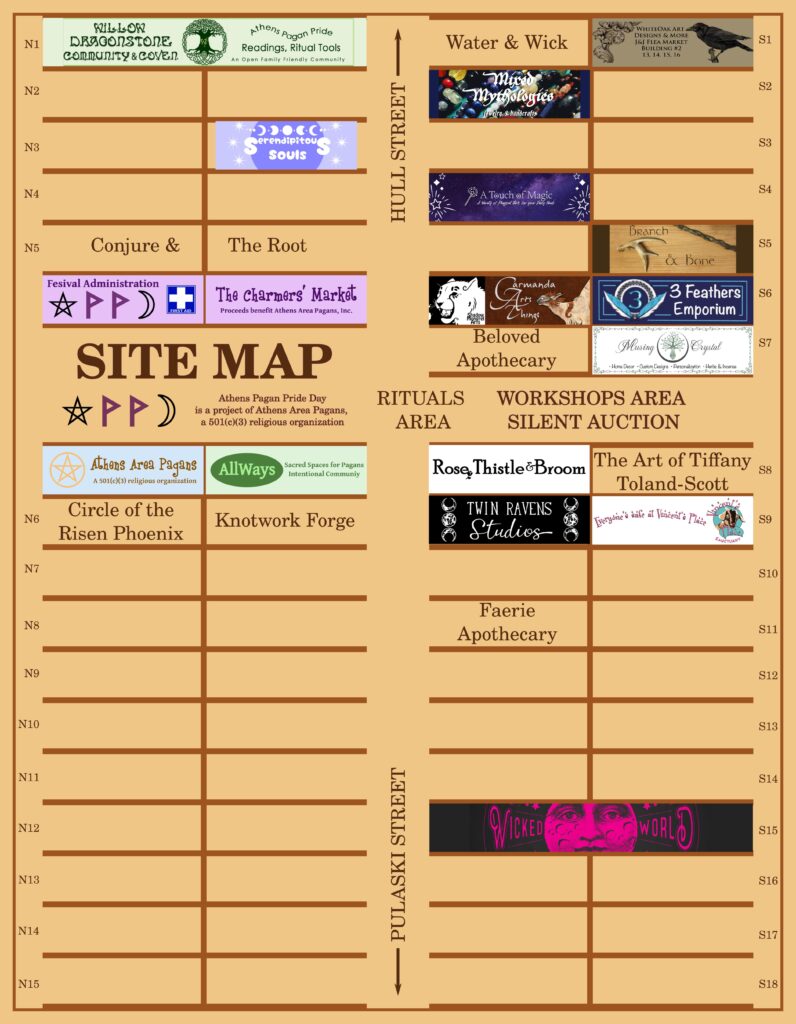 Submitting Your Graphic
Please send your graphic to appd@athensareapagans.org in png or jpg format. Send an email to that same address if you have questions or need help. Thanks!
Previous Festival Maps
Here are signs that were printed in previous years.
These images are lower resolution than what we print. If we used the full resolution, this page would be very slow to load.