Please contact us at appd@athensareapagans.org with any questions.
List of currently registered vendors.
COVID Policy
Due to COVID, the setup is a little more complex than usual.
Our goals are:
Simplify social distancing for the vendors.
Encourage a traffic flow that will simplify social distancing for the attendees.
To achieve this:
The booth layout is designed to encourage a naturally distancing flow of foot traffic (and… maybe it will work…).
The booths are spaced to allow customers to view wares while socially distancing.
We will have thermometers, masks and hand sanitizer at the welcome booths on either end of the street.
We are not requiring mask usage or other additional measures from vendors or participants.
Booth Layouts
See the image below for the booth layout. We will mark the areas with chalk to help you orient your booth. Note that request that two sides be closed off or not made 'attractive'.
For Vendors choosing a 10×10 site: The distance between consecutive booths is large, so the entire booth will be easily visible to passers by. That said, vendors on the sidewalk ('s') side are encouraged to craft a sign to hang or stand on the emergency-access ('e') side. Vendors on the 'e' sides, please work with those on the 's' side to help ensure that they get exposure. Both vendors sharing the site should take care to socially distance to better ensure each others' safety.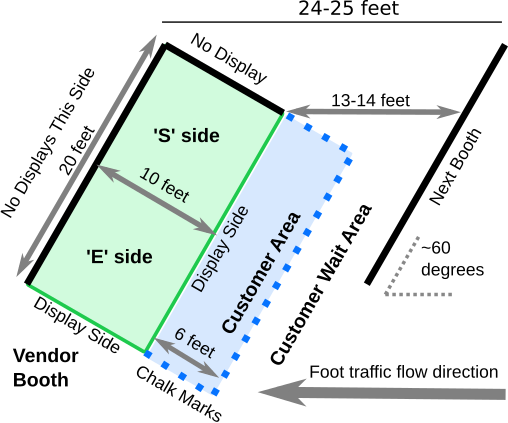 Site Map and Photos
Click here to view photos of the area. Note that the barricades in the street are there to protect people from automobile traffic, so they won't be there during the festival (because no automobile traffic).
The map below shows the vendor sites, with labels. Note the 's' and 'e' labels.
Grayed-out sites are already reserved. A list below also notes the reserved sites. We will update these as often as possible. The list below will likely be updated more quickly than the image.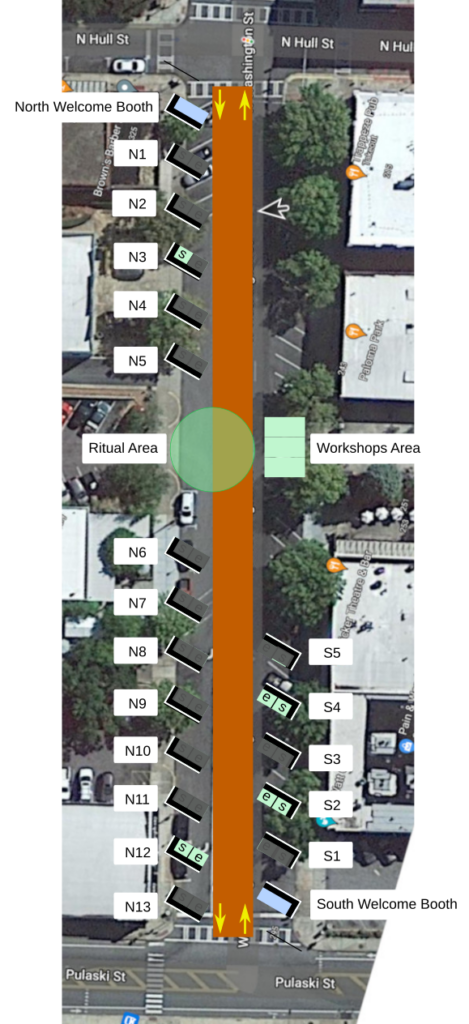 Reserved Sites List
S1, S3, S5, N1, N2, N3-E, N4, N5, N6, N7, N8, N9, N10, N11, N13